Penny Anderson is a singer, songwriter, crankie maker, composer and teacher based in Pittsburgh, Pennsylvania.
I've been fascinated all my life by the oddity, humor, and strange beauty of old songs. I know hundreds of songs from American, British, and French traditions, which I sing unaccompanied, with autoharp, concertina or, very occasionally, with fiddle or hurdy-gurdy.
I also make original songs for solo, small group, or choral performance. You can hear my early work in this vein on my somewhat solipsistic home-made CD, Music at Home. 
For two years I had the pleasure of singing with the lovely Daphne Beers and Jake Kilburg as Monongahela Harmony, singing a lot of early music, some 20th-century music, and our own compositions. Although Daphne has moved on, Jake and I have renewed our singing partnership. We're working on a program with guest artists Nora and Kip Rodes.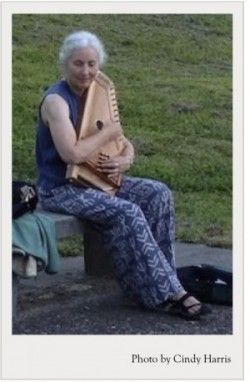 I love many kinds of singing, including shape-note singing, and I organize a regular monthly sing in the Pittsburgh area. Some of my compositions are strongly influenced by styles of the shape note tradition, and I've had a piece published in the thrice-yearly online publication The Trumpet.
My curiosity about the origins of the tradition led me into a lot of reading and listening, and ultimately into teaching a course on the choral music of revolutionary-era New England for the University of Pittsburgh's Osher Lifelong Learning Institute and a similar mini-class for the Augusta Heritage Institute. 
In other teaching and leading roles, I act as music director for the all-woman chorus Sorora, and for the last few years I've had the very great pleasure of leading vocal warm-ups at the Augusta Heritage Center's Vocal Week.
I learn new things all the time from my collaborators and students. I also study voice with Kathy Soroka, studied at the Carnegie Mellon University Marta Sanchez Dalcroze Training Center, and took classes in eurhythmics at the Carnegie Mellon School of Music.
Previous events
Be sure to check out the online offerings from Augusta this summer!
Augusta Heritage Center, Davis & Elkins College, Elkins, WV
Once again I have the good luck to be running the morning warm-ups for Vocal Week at the Augusta Heritage Center!
Quaker Meeting House, 4836 Ellsworth Ave, Pittsburgh, PA
Lineup:
Raging Grannies
Sarah Bowen-Salio and Chuck Bowen
Pittsburghers for Public Transit presentation and song (Dean Mougianis)
Penny Anderson
Casa San Jose presentation (and song?)
Chie Togami and friends
Smokestack Lightning and friends